Maranatha ist ein 12 m langes Berger Boot, das 2018 restauriert wurde und von zwei Ford Lemand 135 PS Motoren angetrieben wird. Das Schiff verfügt über eine geräumige und komfortable Doppelkabine, ein geräumiges Sonnendeck, einen eleganten Sitzbereich im Innenraum sowie eine Plattform am Heck. Es gibt eine Kühlbox für Speisen und Getränke und einen großen Tisch. Maranatha hat Frischwasser sowie eine private Toilette an Bord.
Maranatha ist mit einem GPS, einem Echolot, einem Radio und einem CD-Player sowie einer Reihe von Sicherheitsausrüstung ausgestattet, darunter Schwimmwesten, Rettungsgürtel, Erste Hilfe Ausrüstung und ein Feuerlöscher. Zum Angeln verwendet das Boot Penn International Rollen (3 x 130 lbs, 3 x 80 lbs, 2 x 50 lbs) und eine Reihe von Großfischködern. Ein Kampfstuhl, Outrigger, Downrigger und ein Centerrigger sowie eine Schnorchelausrüstung gehören ebenfalls zur Ausstattung des Bootes.
Die Gebiete vor der mauritischen Küste sind fast das ganze Jahr über reich an Fischen, einschließlich Arten wie Marlin, Wahoo, Thunfisch, Mahi Mahi, Fächerfisch und mehr. Die Ausflüge beginnen in der Regel zwischen 6 und 8 Uhr. Dank der Lage der Insel können Sie ca. 5 Minuten außerhalb der Lagune schon mit dem Angeln beginnen. Im Preis inbegriffen ist Verwendung von hochwertiger Angelausrüstung, lebenden Ködern, künstlichen Ködern, Angelscheinen, alkoholfreien Getränken und Mineralwasser.
---
Angelschein

Lebendköder

Getränke

Toilette

Kinderfreundlich

Schnorchelausrüstung

Kühlbox

Angelruten, Angelrollen & Angelgerät

Kampfstuhl
---
Über den Kapitän
Antonio Lamarque
Le Morne, Mauritius
| | |
| --- | --- |
| | Ausweis und Lizenzen verifiziert |
| | |
| --- | --- |
| | Antwortet innerhalb einer Stunde |
Das Maranatha-Team besteht aus drei lokalen Anglern, die fließend Englisch und Französisch sprechen. Skipper Antonio Lamarque und seine beiden Crewmitglieder, France Labonne und Luciano Lamarque, sind passionierte Angler, hochprofessionell und verfügen über sehr gute Kenntnisse im Tiefseefischen, die sie sich im Laufe der Jahre angeeignet haben. Es ist ihnen immer ein Vergnügen, Anglern zu helfen, die Reize des traditionellen Hochseeangelns, wie es auf Mauritius praktiziert wird, zu entdecken.
Über dieses Angebot
Fischarten
Barrakuda (Großer)
Goldmakrele (Mahi Mahi)
Marlin (Schwarzer)
Marlin (Blauer)
Marlin (Gestreifter)
Fächerfisch
Hammerhai
Speerfisch (Kurzschnäuziger)
Hundszahn-Thunfisch
Echter Bonito
Gelbflossen-Thunfisch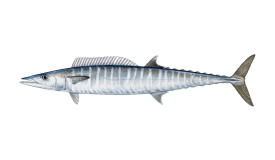 Wahoo
Boot Beschreibung
Berger 420 (Offshore sport fishing) ursprünglich im Jahr 1994 gebaut und restauriert im Jahr 2020. Angetrieben von 2 160HP Yanmar Motoren mit einer maximalen Reisegeschwindigkeit von 14 Knoten.
Angelmethoden
Schweres Gerät (Heavy Tackle)
Schleppfischen (Trolling)
Ausstattung
Outriggers
+ Central Rigger
Ausflug beinhaltet
Angelruten, Angelrollen & Angelgerät
Stornierungsbedingungen
Anzahlung wird nicht erstattet
Wenn es gefährlich ist zu reisen, können Sie dennoch kostenfrei stornieren, oder das Datum Ihres Ausfluges verschieben.
Angebotsbedingungen
Die Abholung wird nach der Buchung abgesprochen
Transfer to/from departure site may be available and included in price depending on your location and distance from the dock.
Besatzung behält den Fang
Fish given to customer for there own consumption
Zahlung
Buchen Sie mit einer 15% Anzahlung und bezahlen Sie den Rest beim Kapitän.
FishingBooker belastet Ihre Kreditkarte mit einer 15% Anzahlung um Ihre Buchung zu garantieren, sobald der Kapitän zusagt.
Der Restbetrag ist am Ausflugstag, oder im Voraus, direkt beim Anbieter, durch die folgenden Zahlungsmethoden zu bezahlen:
Bargeld
Le Morne Angelkalender
Loading Fish Calendar!
Please Wait...
Neueste Angelberichte
Nice bull and bonitoes caught
November 11, 2022
We went out for a 10hrs trip starting at 6a.m instead of 7a.m to maximize our chance of catching the bonitoes and use as live bait for marlins. After few minutes out we found the first school of bonito but no bite. After going to the flinders bank 2 hours later we hooked 7 bonitoes at the same time caught 5 and used 3 as live bait. While getting ready to troll with live bait we saw some doradoes at the back attacking the live bait .so we used a piece of bonito as bait and were able to catch a nice bull. We continued trolling with live bait but on that day the marlin did not come. One bonito died by the attack of the dorado and another one was cut by a wahoo. We tried trolling with artificial lures and rappalas closer to shore at high tide with the intention of catching a wahoo but no bite. We were back with a nice dorado and some bonitoes.
Continue reading
Caught a 400 pounds blue marlin
November 8, 2022
We went out for a full day fishing trip. After 2 hour out we caught 6 bonitoes and used 2 as live bait. After trolling with them for 3 hours we had a strike a blue marlin took both bonitoes. After 30 minutes hard fight the marlin was in. We were back at 3p.m
Continue reading
44 pounds tuna and 11 bonitoes
November 7, 2022
We went out for 12 hours fishing trip starting at 6a.m. After an hour out and after encountering few schools we caught our first bonito. We went further south and caught 10 more bonitoes and used one as live bait. After trolling few hours with the live bait no big ones. We shifted again to the artificial lures. In the afternoon we came closer to shore and detected a school of tuna. We changed technique and had a double hook up. One line broke and on the other one we caught a splendid 44 pounds yellowfin tuna. We were at the beach with some good catch
Continue reading
Häufig gestellte Fragen zu Maranatha Sport Fishing
Was sind die Preise von Maranatha Sport Fishing?
Maranatha Sport Fishing bieten die folgenden Ausflüge an:
MUR 16,000 pro Gruppe - 4 Hour Trip (PM) (4 Stunden)
MUR 16,000 pro Gruppe - 4hrs morning trip (4 Stunden)
MUR 18,000 pro Gruppe - 5 Hour Trip (AM) (5 Stunden)
MUR 18,000 pro Gruppe - 5 Hour Trip (PM) (5 Stunden)
MUR 20,000 pro Gruppe - 6 Hour Trip (6 Stunden)
MUR 23,000 pro Gruppe - 8 Hour Trip (8 Stunden)
MUR 27,000 pro Gruppe - 10 Hour Trip (10 Stunden)
MUR 35,000 pro Gruppe - Full day extra plus (12 Stunden)
---
Welche Annehmlichkeiten gibt es an Bord bei Maranatha Sport Fishing?
Wenn Sie einen Ausflug mit Maranatha Sport Fishing buchen, können Sie die folgenden Annehmlichkeiten an Bord erwarten:
Toilette
Kampfstuhl
GPS
Fischfinder
Bett
Flybridge
Schnorchelausrüstung
Multimediasystem
Outriggers + Central Rigger
Kühlbox
---
Was ist im Ausflugspreis von Maranatha Sport Fishing enthalten?
Ausflüge von Maranatha Sport Fishing beinhalten:
Angelruten, Angelrollen & Angelgerät
Lebendköder
Kunstköder
Getränke
Deckhelfer
Angelschein
---
Welche Arten zu angeln bieten Maranatha Sport Fishing an?
Maranatha Sport Fishing bieten die folgende Art zu angeln:
---
Welche Angelmethoden bieten Maranatha Sport Fishing an?
Maranatha Sport Fishing bietet die folgenden Angelmethoden:
Schweres Gerät (Heavy Tackle)
Schleppfischen (Trolling)
Hochseeangeln
---
Welche Fischarten kann ich mit Maranatha Sport Fishing fangen?
Die am häufigsten gefangenen Fischarten von Maranatha Sport Fishing beinhalten:
Barrakuda (Großer)
Goldmakrele (Mahi Mahi)
Marlin (Schwarzer)
Marlin (Blauer)
Marlin (Gestreifter)
Fächerfisch
Hammerhai
Speerfisch (Kurzschnäuziger)
Hundszahn-Thunfisch
Echter Bonito
Gelbflossen-Thunfisch
Wahoo