Cancun Spanische Makrele Angeln Angebote
Die besten Spanische Makrele Ausflüge in Cancun
---
Die besten Spanische Makrele Ausflüge in Cancun
---
Die beliebtesten Spanische Makrele Angebote in Cancun
---
Cancun Spanische Makrele Angelsaisonen
Loading Fish Calendar!
Please Wait...
Saisonalität
Spanische Makrele fishing in Cancun varies slightly throughout the year. High season is April. Low season is January. There is no closed season.
---
Was andere Angler über Spanische Makrele Angeln in Cancún berichten
"Half day trip "
---
We had to cut our trip short because of sea sickness, but still had a great trip! Caught 4 and a half fish (a little shark got half of the Spanish mackerel on the way in) in less than 2 hours. Great crew and communication.
"Best trip yet!"
---
If we could give more than 5 stars-we would. 4 fishermen in our group -all caught plenty of fish grouper snapper, amberjack , Spanish mackerel Professional crew who knew the waters like the back of their hand Looking forward to our next trip with Twin Hooks
"Sport Fishing"
---
The Captain was excellent put us on fish quickly which included Baracuda Spanish Mackerel and Amberjack the action was fast and furious. A great day of fishing aboard the Galileo with Capt Abraham, Jorge and Javiar!
---
Fischarten ähnlich wie Spanische Makrele in Cancun
Größe 2 to 12lbs
Nährwert Durchschnitt
Jagdeigenschaften Niedrig
Lebensräume Nearshore
Größe 2 to 20lbs
Nährwert Ausgezeichnet
Jagdeigenschaften Gut
Lebensräume Offshore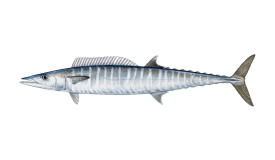 Größe 15 to 35lbs
Nährwert Durchschnitt
Jagdeigenschaften Ausgezeichnet
Lebensräume Nearshore, Offshore, Reef
Größe 10 to 20lbs
Nährwert Durchschnitt
Jagdeigenschaften Durchschnitt
Lebensräume Inshore, Nearshore, Offshore, Reef, Wreck
---
Basierend auf 19,438 Bewertungen von FishingBooker Anglern