Marlin My Darlin Sportfishing sind ein Unternehmen mit einem ausgezeichneten Ruf und fast einem halben Jahrhundert Erfahrung in Fort Lauderdale und Umgebung. Die Besatzung bietet alle Angelmethoden an und ist darauf spezialisiert, große Fische in einer professionellen und entspannten Atmosphäre zu fangen. Schließen Sie sich ihnen für einen unterhaltsamen Tag an und angeln Sie mit den Einheimischen wie die Einheimischen.
Jeder Ausflug kann auf Ihre speziellen Bedürfnisse zugeschnitten werden. Welche Fischart Sie auch immer von Ihrem Wunschzettel in Südost-Florida streichen wollen, die Besatzung gibt ihr Bestes, um es zu ermöglichen. Angeln Sie an der Oberfläche und in mittlerer Tiefe auf pelagische Arten wie Fächerfish, Wahoo, Schwarzflossen-Thunfisch und Echten Bonito, Mahi Mahi, Königsmakrele, Kleinen Thun, Blauen und Weißen Marlin. Trollen Sie mit lebenden oder künstlichen Ködern, die die Besatzung selbst vorbereitet.
Angeln Sie am Grund auf Grauen und Goldenen Ziegelfisch, Zackenbarsch und Schnapper in Gewässern mit einer Tiefe von 15 bis über 245 m. Und wenn Sie auf der Suche nach etwas ganz Besonderem sind, kann das Team Ihnen Fächerfisch zeigen. Sie waren bei der Einführung des Drachenangelns auf Fächerfisch in Südflorida von Anfang an dabei!
Marlin My Darlin Sportfishing bieten Spinnruten und -rollen sowie lebende Köder für Fächerfisch, aber auch weiche Ruten und Rollen für junge Angler bis hin zu schweren Geräten für große Haie.
Der ganze Zauber spielt sich an Bord der "Marlin My Darlin" ab. Sie ist ein 15 m langes, maßgeschneidertes Hatteras Flybridge Boot mit zwei 430 PS starken Detroit Diesel Motoren mit Turboaufladung. Die Marlin My Darlin ist ein wahres Kunstwerk mit allem Komfort, den man von zu Hause kennt. Sie ist voll klimatisiert mit Ledersitzen im Inneren, wenn Sie eine Pause von der floridianischen Sonne wünschen.
Alle Ausflüge werden mit Penn und Shimano Angelgeräten sowie mit Wasser in Flaschen und Lizenzen angeboten.
Marlin My Darlin Sportfishing haben eine 5-Sterne-Bewertung. Sehen Sie sich die Verfügbarkeit an, buchen Sie einen Ausflug und überzeugen Sie sich selbst!
---
Angelschein

Sie behalten den Fang

Säubern & Filetieren

Getränke

Toilette

Kinderfreundlich

Klimaanlage

Kühlbox

Angelruten, Angelrollen & Angelgerät

Kampfstuhl

Lebendköder

Abholung inbegriffen

Schnorchelausrüstung

Essen (Mittagessen & Snacks)
---
Über den Kapitän
Rick Brady
Fort Lauderdale, Florida, Vereinigte Staaten
| | |
| --- | --- |
| | Ausweis und Lizenzen verifiziert |
| | |
| --- | --- |
| | Antwortet innerhalb einer Stunde |
Meine Besatzungsmitglieder und ich haben umfangreiche Erfahrung im Angeln in der Gegend von Fort Lauderdale/Miami: zwei Bahamas Billfish Championships und zahlreiche Turniersiege zusätzlich zu unseren vielen Jahren der Durchführung von Ausflügen. Keiner von uns nimmt mehr an Wettkämpfen teil, sondern verbringt seine Tage damit, erfahrenen Anglern und Anfängern das Hochseeangeln näher zu bringen und neue Angler sanft in das Hochseeangeln einzuführen. Kinder sind immer willkommen und wir ermutigen Sie, Ihre Kinder mitzubringen. Zusammen haben wir mehr als 90 Jahre Erfahrung in den Angelausflügen auf große Fische und auch in Angelabenteuern, die auf die spezifischen Wünsche jedes Gastes zugeschnitten sind. Wir lieben, was wir tun, es ist alles, was wir tun und unsere Liebe für unseren Job ist leicht mit Trip Advisor und Google Bewertungen sowie hier bei Fishing Booker zu sehen, da alle uns mit 5 Sternen bewerten.
Über dieses Angebot
Fischarten
Goldmakrele (Mahi Mahi)
Riesenzackenbarsch
Königsmakrele
Marlin (Blauer)
Fächerfisch
Hammerhai
Mako (Kurzflossen)
Fuchshai (Gemeiner)
Schnapper (Nördlicher)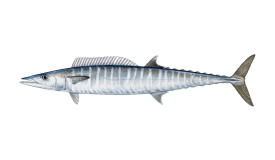 Wahoo
Boot Beschreibung
Hatteras (Flybridge) ursprünglich im Jahr 1997 gebaut und restauriert im Jahr 2016. Angetrieben von 2 438HP Detroit Diesel Motoren mit einer maximalen Reisegeschwindigkeit von 20 Knoten.
Angelmethoden
Leichtes Gerät (Light Tackle)
Schweres Gerät (Heavy Tackle)
Schleppfischen (Trolling)
Ausstattung
Toilette
(2) Private electric
Klimaanlage
2 Marine Air units
Kampfstuhl
3 fighting chairs
GPS
Garmin, Furuno and Northstar
Fischfinder
Garmin and Furuno units
Flybridge
Cushioned customer seating provided
Tank für Lebendköder
yes 110 gallon
Küche
Microwave, refrigerator
Multimediasystem
stereo (Bosch)
Outriggers
Yes, Rupp Riggers Palm Beach
Speerfischen Gerät
spin, conventional (light and heavy)
Radar
Furuno 35 mile unit
Schwimmwesten
U.S Coast Guard approved of all saftey equipment
Ausflug beinhaltet
Angelruten, Angelrollen & Angelgerät
Stornierungsbedingungen
Kostenlose Stornierung bis zu 3 Tage vor dem Ausflug.
Gäste können Ihren Ausflug bis zu 3 Tage vor dem Termin kostenlos ändern oder stornieren. Wenn der Ausflug später storniert, oder geändert wird, oder falls die Gäste nicht erscheinen, wird die gesamte Anzahlung in Rechnung gestellt.
Angebotsbedingungen
Die Abholung ist nicht im Preis inbegriffen
Transfer to/from departure site is not included in trip rates.
Fangen und Freilassen erlaubt
Zahlung
Buchen Sie mit einer 15% Anzahlung und bezahlen Sie den Rest beim Kapitän.
FishingBooker belastet Ihre Kreditkarte mit einer 15% Anzahlung um Ihre Buchung zu garantieren, sobald der Kapitän zusagt.
Der Restbetrag ist am Ausflugstag, oder im Voraus, direkt beim Anbieter, durch die folgenden Zahlungsmethoden zu bezahlen:
Bargeld
Visa
Mastercard

American Express
Fort Lauderdale Angelkalender
Loading Fish Calendar!
Please Wait...
Neueste Angelberichte
School bells right around the corner
August 3, 2022
A couple of more blinks of the eye and summer break for schoolers of all ages will end for another summer. Not sure "schoolers" is actually a proper word, but it tells the story, summer ending for children and young adults. The summer months will be with us a while longer, but those young face will be back in the classrooms. We'll see our local family customers on the Saturdays and Sundays on our fishing charters in Ft. Lauderdale. Lots of kids in the photos this report, so enjoy the photos of our recent anglers. Kingfish, Bonito, Tuna, Barracuda, Snappers a few Sailfish. Capt.Rick Direct @ **hidden content** for up to the minute accurate availability, inquiries and all reservations.
Ft. Lauderdale fishing report
Juli 25, 2022
Making our way deep into July now here in Ft. Lauderdale. Fishing charters are now firmly entrenched in the typical summertime patterns, that not being only fishing but the weather patterns as well. Pleased to say we have been enjoying reasonable fishing and also reasonable weather on most days. Summer brings more pleasant sea conditions on a typical day than winter days. We do see some rain, we are tropical here, but usually scattered and does not interrupt our days on the water. There is a large disparity of the rain experienced on the inland areas of the state and our offshore conditions. Inshore areas out west get it regularly, but we do get some too. The A/C and leather inside our cabin not only serves to shake the sun for a minute but also to duck in and shake the occasional shower too. Action along the reef lines continues to produce Kingfish, Bonito and Tunas. Some Sailfish along those areas as well and we have had Wahoo too. Amazing numbers of Barracuda as of late, likely due to the recent regs of strict management of them. The vast majority of those (as well as Sailfish and Sharks) are catch photo and release. Some of these fish have measured out quite large. Some Mahi-Mahi,. Snappers and Amberjack and Almoco Jacks on the wrecks and structure. Please enjoy the pictures of some of our anglers. Reach us direct for all inquiries regarding accurate availability, questions and reservations directly @ **hidden content**
Häufig gestellte Fragen zu Marlin My Darlin Sportfishing
Was sind die Preise von Marlin My Darlin Sportfishing?
Marlin My Darlin Sportfishing bieten die folgenden Ausflüge an:
$825 pro Gruppe - Half Day Trip (AM) (4 Stunden)
$825 pro Gruppe - Half Day Trip (PM) (4 Stunden)
$1,025 pro Gruppe - 5 Hour Trip (5 Stunden)
$1,225 pro Gruppe - 3/4 Day Trip (AM) (6 Stunden)
---
Welche Annehmlichkeiten gibt es an Bord bei Marlin My Darlin Sportfishing?
Wenn Sie einen Ausflug mit Marlin My Darlin Sportfishing buchen, können Sie die folgenden Annehmlichkeiten an Bord erwarten:
Toilette (2) Private electric
Klimaanlage 2 Marine Air units
Kampfstuhl 3 fighting chairs
GPS Garmin, Furuno and Northstar
Fischfinder Garmin and Furuno units
Bett
Flybridge Cushioned customer seating provided
Tank für Lebendköder yes 110 gallon
Küche Microwave, refrigerator
Kühlschrank yes
Multimediasystem stereo (Bosch)
Outriggers Yes, Rupp Riggers Palm Beach
Tuna Tubes 110 gallon
Speerfischen Gerät spin, conventional (light and heavy)
Kühlbox yes
Radar Furuno 35 mile unit
Schwimmwesten U.S Coast Guard approved of all saftey equipment
---
Was ist im Ausflugspreis von Marlin My Darlin Sportfishing enthalten?
Ausflüge von Marlin My Darlin Sportfishing beinhalten:
Angelruten, Angelrollen & Angelgerät
Kunstköder
Säubern & Filetieren
Getränke (Water supplied. )
Deckhelfer (yes )
Angelschein (All provided)
---
Welche Arten zu angeln bieten Marlin My Darlin Sportfishing an?
Marlin My Darlin Sportfishing bieten die folgenden Arten zu Angeln:
Angeln in Küstennähe
Hochseeangeln
Angeln am Riff
Wrackfischen
---
Welche Angelmethoden bieten Marlin My Darlin Sportfishing an?
Marlin My Darlin Sportfishing bietet die folgenden Angelmethoden:
Leichtes Gerät (Light Tackle)
Schweres Gerät (Heavy Tackle)
Grundangeln
Schleppfischen (Trolling)
Jigging
Drachenangeln
Hochseeangeln
---
Welche Fischarten kann ich mit Marlin My Darlin Sportfishing fangen?
Die am häufigsten gefangenen Fischarten von Marlin My Darlin Sportfishing beinhalten:
Goldmakrele (Mahi Mahi)
Riesenzackenbarsch
Königsmakrele
Marlin (Blauer)
Fächerfisch
Hammerhai
Mako (Kurzflossen)
Fuchshai (Gemeiner)
Schnapper (Nördlicher)
Wahoo